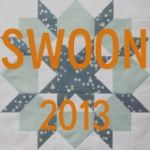 Sarah at Fairy Face Designs is doing a Swoon-A-Long over the next couple of months. It seemed like the perfect motivation to finish up my Swoon, which was started at a quilting retreat in March. I really love it so far - but now I have a little dose of accountability to get it done. There is a Flickr group started as well as an Instagram hashtag (#Swoon2013) if you want to join.
If you don't know about Swoon yet, you should go check out this pattern. I just adore Camille Roskelley's patterns. It's actually very simple and it uses fat quarters - each block finishes at 24" square for a finished quilt of 80"x80".
Here's what I've done so far...
Also, please read the post below or click here, I have a giveaway going on through Saturday - please enter for a chance to win some awesome Aurifil thread!