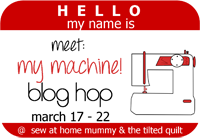 Welcome to Day 1 of the meet: My Machine! blog hop. Erin from Sew at Home Mummy and I have teamed up to bring you a whole week of fabulous quilters who are going to share all of the details about their sewing machines. Here's the lineup:
But there's more! We want to hear from you. So, we are also hosting a week-long
link party right here. Any time this week, head back to this post and add a link from a recent blog post talking about your machine. Here are some ideas of topics you can cover in your post:
Please tell us about your current

machine

- make, model, etc. (and if there's any story behind you obtaining it, etc.)
What's your favorite

machine

accessory/doo-dad?

Does your

machine

have a name? What is it? Have you tatted your

machine

up with fancy stickers, decals, etc? let's see 'um!

Tell us a little about your first sewing

machine

- is that the one you still use today?

How many

machines

do you own (don't be shy, fess up) & tell us a bit about them - domestic, serger, embroidery, long arm, vintage, antique? Do you use your vintage/antique

machines

, or are they eye-candy only?

What are your favorite features of your current

machine

?

What feature could you not live without?

What features do you wish you had on that

machine

, but don't? How could your

machine

be improved upon? Would you recommend this

machine

to a friend (be diplomatic here, lol)
If you could have any

machine

(let's say you win one for FREE tomorrow...) what would it be??

Show us your sewing space - what are your favorite parts of that space and what do you want to change? Where did you find your (table/chair/shelving, etc. if they've got a great story, [I found it in a dumpster behind the Walmart! Ya! New coat of paint and look at it!] [it's an Ikea Hack!!! It was a (weird Swedish name here) table and now look at it!], etc, we'd love to hear about it)

What's your favorite method for storing (scraps, FQBs, Jelly Rolls, etc.)

And, anything else

machine

/space/person related you'd like to share!
We are looking forward to hearing from you - As with all blog hops and linky parties, the real fun is in commenting on others posts, so check out what everyone is talking about today and check back during the week as well.