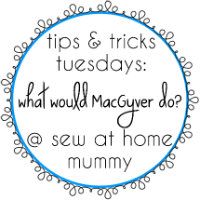 I am so very excited to guest host Tips & Tricks Tuesday today for Erin from Sew at Home Mummy. Erin might just be my quilty soul sister - we're in two bees together and have been in two blog hops together and are co-hosting a blog hop in March!!
Anyway, each week Erin shares the most amazing tips - not just quilting ones but also fab blogging tips. I have implemented many of her posts here as well. She loves for folks to link up with her each week with their own tip or trick.
So, today I will be sharing some tips I have discovered regarding paper piecing.
Paper Piecing allows you to achieve precision every time!
I think 2013 might be the year I become addicted to paper-piecing. I've done it some before, and even taken two fun classes on the fundamentals of paper piecing. But I never really saw myself making full quilts using foundations until this year. Why the change? Well, I vowed to try to reach outside my comfort zone with my quilting. I've made 1000 half-square triangles and came up with some fun quilts and now I want to do things that look more advanced. I even joined a strictly paper piecing block of the month club, the Lucky Stars Block of the Month hosted by Don't Call Me Betsy and I'm loving it. Here are the first three blocks:
The truth is, once you get down the technique that works for you, paper piecing is really easy and lots of fun. So, today I will give you my top tips & tricks for successful paper piecing.
Buy good paper to use for your foundation.

The packs at Joann's and sewing/quilting stores are fine but they are expensive.

Someone recommended buying Vellum from a specialty paper store (not Office Depot or Office Max) and it has really worked well for me.

You can buy a pack of 500 pages of 17 lb. paper for about $24.

The brand I purchased is by Neenah. I know it's an investment up front, but the store packs can be up to $7 for a pack of 25 sheets, so it is definitely an overall savings if you are going to do a good bit of paper piecing.

And just to keep it in perspective, I just did a paper pieced baby quilt that had around 50 blocks (many paper pieced blocks require more than one piece per block.)

So, look into it ~ it may work for you.
Here's one block of a paper pieced quilt I'll be unveiling this week as a finished baby quilt. Each
larger block was made from four paper pieced squares. The pattern is Cartwheels
by Lee @ Freshly Pieced.
Lower your stitch length, but not too much.

I have seen people suggest lowering the stitch length to as small as 1.2 or 1.4 – it does makes it easier to tear the paper off after you finish.

But, beware, if you are unlucky enough to have to rip out a seam, you will be cursing that short stitch length.

I have found that 1.6 works for me.

Check your machine and see what works best for you.
Buy an Add-A-Quarter ruler.

What, another ruler?

Yes! This one will be really handy.

It allows you to trim a perfect quarter-inch seam and also helps line up your next sewing line perfectly.

There will be no bulk in your beautifully pieced block.

I found this quick video demonstration on You Tube that illustrates how you use an Add-A-Quarter ruler so you can get the general idea:
Go get an extra large trashcan. There will be LOTS of waste including paper and trimmings so go borrow one from elsewhere in the house for a little while.
When you sew – you ALWAYS sew on the line printed on the page. The fabric goes under the paper, away from you. This is the opposite of the way you think. You are sewing directly onto paper, not fabric! Remember this "

SEW ON THE LINE, EVERY TIME."
Start one or two stitches ahead of the intersection where you are supposed to begin and backstitch before and after you begin to lock in that stitch and keep your points fine. Sew exactly on the line so all of your points line up perfectly.
Now is the time to use your fancy thread cutter on your machine, if you have one – you will have almost no threads hanging off of you block.
Your first piece of fabric for each block is placed with the right side of the fabric touching the sewing plate of your machine. After the first piece of fabric, the rest are placed wrong side against the sewing plate of your machine, and with fabric right sides together.
It's not a bad idea to use a light box or your iPad to line up your first fabric placement. But if you use the Add-A-Quarter, you won't have to after that. You just line up the fabric on the trimmed line you cut.
If the block designer gives you a cutting guide, I would use it but if you are new at paper piecing, I would add a little bit extra (a little lagniappe as my Cajun family would say) to give yourself a little wiggle room.

Too much waste is sad, but having to un-sew with your seam ripper is even sadder. If you are unsure about whether the piece you cut is big enough - pin it and check that it will be large enough once it is sewn and flipped.
Even with the experience I have had recently with paper piecing, I find that it is very easy to forget the fundamentals and sometimes when I take a break, it's very easy to sit down and sew something incorrectly without thinking about it. The best advice I can give on paper piecing is
take your time, don't do it when you're tired and make sure you give yourself plenty of extra room in your cut pieces.
The results are well worth the extra effort!
I hope this has helped you a little - I would love to hear from you and see your paper piecing projects. Good luck on all of your fun projects!!
Do you have a post to share for Tips & Tricks Tuesday. If so, link it up here - and don't forget to grab the button: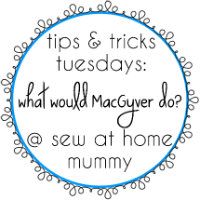 Erin and I really appreciate your visit today!