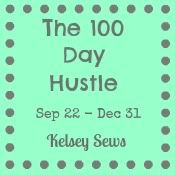 OK, time to see just how much of the list I've completed. Let's survey the damage results.
(2) Red, White and Blue donation quilt - DONE but didn't snap a picture before it headed out the door :( rookie mistake, I know!
(3) Flurry Christmas Star DONE (and sold on Etsy)
(4) Gypsy - no progress - I lost some inspiration on this and put it aside.
(5) Tipsy Quilt Kit - I decided to repurpose these fabrics in my stash. The end result was going to be very similar to the Twister quilt below and while I really loved the fabrics, I thought they would be happier going to another quilty home in the future. So, I call this project DONE!
(6) The Twister pattern using Sassy by Sandy Gervais - I finished the top on this and blogged about the fun Twister tool here. I'm about 1/2 finished with quilting the top, should finish her soon. She'll go on Etsy and find a new home in 2013.
(7) Salt Air Baby Quilt -
I decided to put some of my hexie makin' skills to use here and made about 50 hexagons to appliqué on to this quilt. So, some progress made. About 1/3 of the way done on this one.
(8) Granny Square Baby Quilt - the blocks are done but need to be assembled and then quilted. This will be donated to Baby Bundles this year!
(9) Reindeer Wall Hanging - no progress, maybe Christmas 2013 :(
(10) Bee In My Bonnet Row Along - couldn't kick start this into gear.
(11) Flea Market Fancy - sadly no progress either - but it is still calling to me.
(12) And finally, my beloved Hexa Go-Go Christmas Quilt - here is the top, finished on December 24th!! I cannot wait to quilt this one, but to be very honest, I think I'm at the point where I need to step away from the quilt for a week or two before I do so. It was a labor of love, for sure!
So, there we are fellow Hustlers! How did you all do, I can't wait to visit your blogs and find out! All my best for a happy, healthy 2013 to all of you.