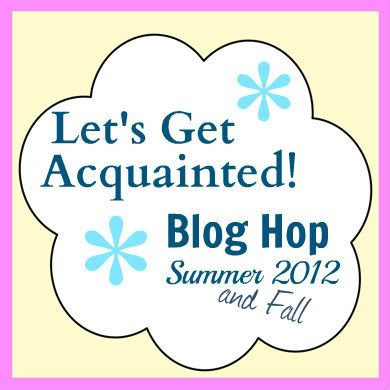 I am so thankful that I was able to get a spot on the last week of Plum and June's Let's Get Acquainted Blog Hop. Welcome! Sit back and stay a while. In the next few minutes, I'll answer a few questions and tell you about some of my latest quilts and tutorials.
How long have you been quilting?
I have been officially quilting for about 3 1/2 years now. It all started with taking a baby quilt class at a local quilt store and it just snowballed after that! I joined and became active in the local quilt guild and have met wonderful people who have taught me a lot about the craft. I love to take classes and workshops any chance I get.
Favorite quilting tip(s) - I tell everyone that quilting is not hard but you have to be very serious about that quarter-inch seam and about ironing. If you can sew straight, and use an iron - you can quilt.
Favorite blogging tip(s) - I'm a new blogger so I'm not sure I have a lot of tips to give, but I'm always looking for new tips if you have any you want to share.
Favorite fabric (or wish list fabric) - favorite designers are Amy Butler, Kate Spain, Sandy Gervais, Bonnie & Camille.
Favorite craft book - I am a sucker for a quilt book and am amassing quite a library. My latest is Hexa Go-G0 and it's fueling my new obsession with hexagons. I just finished 112 hexagons to go in this quilt. Here's the block I am working on - I absolutely cannot wait to see this quilt finished!!

Favorite book (or book you are currently reading) - ok, I will admit it, I just finished reading the Fifty Shades of Grey trilogy. Don't judge me :)
Favorite quilting tool - so many to choose from, but I will have to say my latest favorite is the FriXion gel pen with the ink that disappears with heat. I recently did a post on my Sewing Room Must Haves with my top five can't live without items.
Favorite TV show while hand stitching -
I usually have the Roku going while I am sewing - favorites include Grey's Anatomy, Scandal, Private Practice, Modern Family, Glee, Parentood, Downton Abbey, Mad Men.
Binding - by hand or by machine? Almost always by hand unless I think it will get washed a lot, then I machine bind it.
A Few of My Favorite Finishes This Year
Here are a few of the quilts I just adored this year - I could go on and on, but I'll limit myself to three:)
This was for a dear friend's boy/girl twins and I just loved the way they came out:
And, then I finished my Flurry Christmas Star - my favorite part of this is the quilting in the star, it really makes the quilt:
I've just started doing tutorials, but my lasagna quilt tutorial is a great starter quilt for the new quilter.