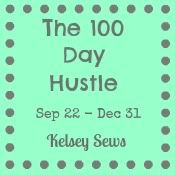 Here we are at the halfway point of the 100 Day Hustle. It's been a very busy fall for me and I haven't quite accomplished everything I'd hoped I would have done but, I'm going to forge ahead through the end of the year. I'm going to have to focus a future post on #12, as it has taken up a lot of my time and I think it will be a real stunner when it's done. But for now, here is where I stand on my list!
(2) Red, White and Blue donation quilt - DONE!
(3) Flurry Christmas Star DONE!
(4) Gypsy - no progress - I lost some inspiration on this and put it aside
(5) Tipsy Quilt Kit - no progress :(
(6) The Twister pattern using Sassy by Sandy Gervais - I finished the top on this and blogged about the fun Twister tool here.
(7) Salt Air Baby Quilt -
no progress :(
(8) Granny Square Baby Quilt -
no progress :(
(9) Reindeer Wall Hanging - no progress :(
(10) I still really want to do the Bee In My Bonnet Row Along - they are only on Row 5 and I guess I could technically still have time to catch up if I can get myself organized.
(11) Flea Market Fancy - sadly no progress either - but it is still calling to me.
(12) Hexagons - I have spent A LOT of time making hexagons for a quilt in Hexa Go-Go and I have made a lot of progress. In fact, I finished the 112 hexagons and made them into 16 rosettes. Next is the string pieced blocks and then it should come together.