Since I've been known to sort of take a pattern and change it up a little, sometimes I'm left trying to figure out exactly how much backing and binding I may need to finish it up. So, today, I'm sharing my favorite high tech device for quilting for Erin's new link party, Tips and Tricks Tuesday. Erin and I are fellow Color Bee Shocked members and will be sharing all kinds of quilty projects over the next year. Check out her
inaugural tip
today!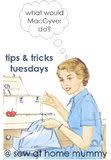 This is a great free (*yes free*) iPhone app by Robert Kaufman called
QuiltingCalc
. It's so neat because you can figure out exactly how much fabric you need for your project! I love it - I use it all the time when I'm in the quilt store mulling over my purchases!
I've also found some great quilting size reference charts and posted them to my Pinterest Board for
Quilt and Sew Projects
if you're curious about the amounts of fabric needed for traditional quilt sizes (quilt, lap, twin, double, queen king).
Happy Quilting!